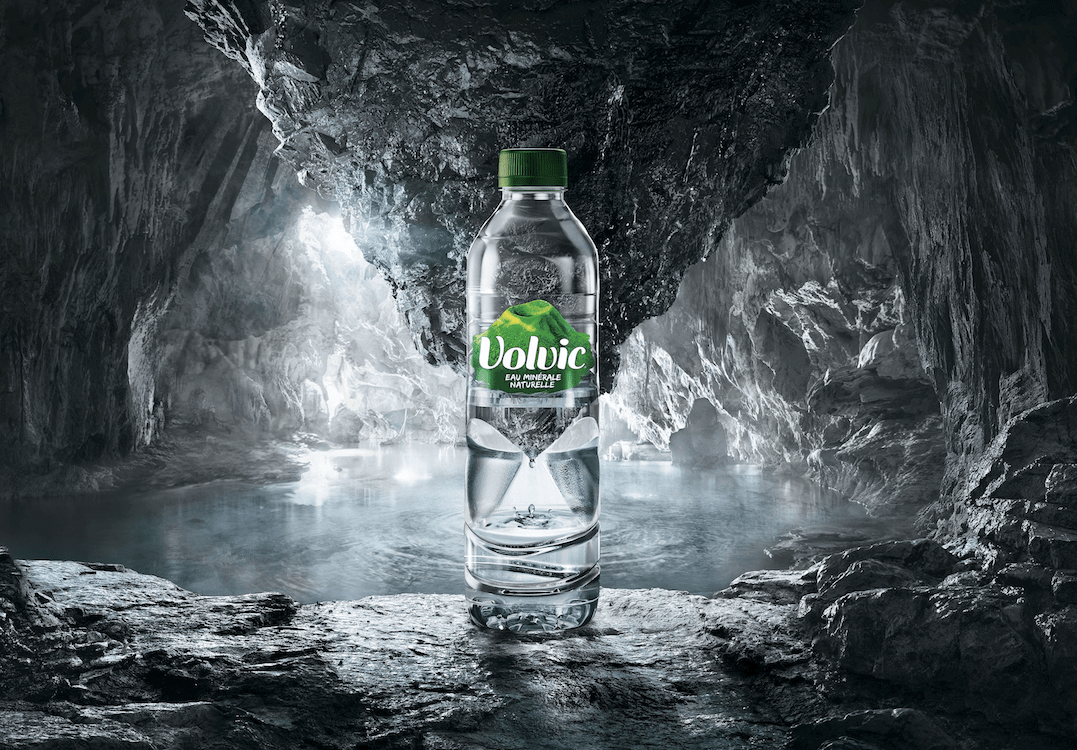 Information about the company
Volvic is a brand of mineral water. Its source is Clairvic Spring, Auvergne Regional Park, just to the north of the Puy de Dôme in France.
The first of the springs in the area was tapped in 1922, and the first bottles appeared on the market in 1938. Today, Volvic waters are internationally known.
Over 50% of the production of Volvic water is exported to more than sixty countries throughout the world. Two bottling plants produce over one billion bottles of water annually and are the principal employers of the local Volvic commune. In October 1993, the Volvic Company was bought by Groupe Danone.
Since 1997, Volvic has been using PETE, a recyclable material, to make their bottles.
Volvic also produces a range of water that has natural fruit flavouring named Volvic Touch of Fruit, with sugar free options. Recent flavours include strawberry, summer fruits, orange & peach, cherry, and lemon & lime. Other ranges available are Volvic Juiced (water with fruit juice from concentrate), and Volvic Sparkling (sparkling flavoured water similar to Touch of Fruit).
Commercial approach
Volvic, the popular water brand from Danone, kicked off 2017 with a multichannel marketing campaign, 'Find Your Volcano'. Volvic believes that everyone has a natural strength (like the volcano) which allows us to overcome any challenge, however big or small. This new campaign aimed to inspire and encourage people to use this inner strength to achieve their goals and live life to the fullest. With a range of customised creatives designed around personality traits such as 'Bold', 'Outgoing' and 'Passionate', the brand took advantage of YouTube's new Bumper Ad format as a way to reach a diverse audience at scale, and in a non-interruptive context.
Google Ads success story
Viewers watching the latest pop video might see a "Turn Up The Volume" creative, while highlights from the week's Premier League games were prefaced with an "Until The Final Whistle" message, all of which used YouTube Bumper Ads. These six second videos are a non-skippable format that allow brands to land a punchy, relevant message without disrupting the viewer's journey.
To land such highly targeted messaging you need to ensure you're appearing alongside the right content, so Volvic's digital agency, MEC, came up with a smart strategy to achieve this. "We chose Zeitgeist videos from Google Trends, and used managed placements to assign these as unique bids," explains Chris Hallam, AV Account Executive at MEC. By targeting key events like the Oscars envelope mix-up or live performances at the Brit Awards, the brand were able to hit both new and established YouTube viewers, which Chris says helped the brand become "a digital water-cooler people wanted to be associated with."
Results
- Over 10m views across 200 content categories
- Average CPM managed to 25% below target
- 5% lift in brand awareness
Fill the Form, We'll Reach You!